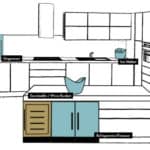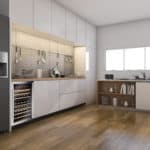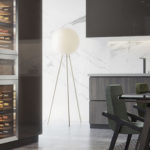 Built-In Wine Coolers
Your kitchen is just like you
The kitchen is known to be our favourite place at home. We love and care for it accordingly. The kitchen is synonymous with conviviality, we have there long chats and laughs with friends and family. Every
element in your kitchen is essential and makes each moment unique. With a built-in wine cooler you can make the difference and personalise your kitchen with an under counter our built-in niche installation.
Datron's built-in wine cooler product range is designed to meet the high demands of our attentive and careful customers. All modern or classic kitchens oft the most prestigious brands can be equipped with
a variety of electric built-in appliances. Among these you can't miss a built-in wine cooler, which nowadays becomes a design furniture thanks to its modern and functional lines.
There are 4 different types of built-in wine coolers:
Built-in column, the wine cooler can be installed into all cabinets
Under counter, space saving, wall mounting is possible
Under the worktop, the most popular type, you can install it in kitchen islands and peninsulas
Built-in niche, the wine cooler can be installed into the wall, leavingadequate space on each side for ventilation
All Datron built-in wine coolers are characterised by great flexibility. The fit in perfectly in every installation niche and do not need additional space. Even if the wine cooler has been already built-in,
you can relocate or let the appliance freestanding in a second moment.
Each built-in wine cooler has Datron's special features:
Italian design
Integrated plinth on the base for ventilation
Internal LED light
Extractable marine plywood shelves
Single or Dual temperature zones
Display
Adjustable temperature from 3 ° C to 22 ° C
Datron's product support and customer service are always here for you. We are happy to advise you on the basis of your kitchen planning sketch with measurements, or we can contact directly your furniture store of confidence. All your questions will be answered by a simple phone call.