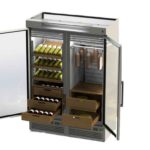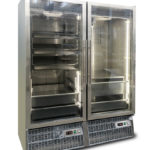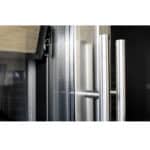 Fridge for wine | cold cuts | cheese
Food to Furnish
The corner of the Good Taste! Italy is the country with the best food in the world! Not only the Italians, but also the more than 400 million foreign visitors in tourism assert this. Local products (0 km), simple and natural tastes, harvested directly from our fields, cold cuts and cheeses from Piedmont to Sicily. Of course the wine should not be missing, Italy is the first wine producer in the world.
That's why Datron has designed a unique product of its kind; an Italian-style refrigerated storage cabinet. A piece of furniture to impress your guests; it can preserve cold cuts, cheeses and bottles of wine for long-term storage.
An extremely scenic refrigerator for wine, cold cuts and cheese, to be placed next to the corner bar; it is perfectly suited to private environments with large and small spaces, either in a mountain chalet or a patio on the beach.
Given the high performance and the low energy consumption, this refrigerated storage cabinet for food is suitable for the entire catering industry: bars, hotels, bed & breakfasts, retail sales of wine, cold cuts and cheese. Placed at the entrance, it allows to exhibit and sell the products, making them the absolute protagonists.
A refrigerator for short, medium and long term food storage with 2 technologically advanced compressor motors.
Storage area for meat and cold cuts

This zone is intended for long-term storage of soft and hard cheeses

There is space on inclined shelves for white wine, sparkling wine and champagne bottles

The section for red wine Bordeaux bottles is equipped with drawers made of marine plywood shelves
High quality materials, they are durable and do not deteriorate. Personalised design and tailor made, with the safety that only Datron can provide.