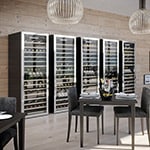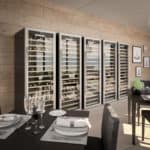 Large Wine Refrigerators
Offer your finest wines in the best possible way!
Cool the wine at the temperature you want!
Whether your restaurant is small or big does not matter, we are pretty sure that you partly have to remove the dust from your bottles on the shelves.
This is the new catering furniture concept, totally devised by Datron. Spacious wine refrigerators – highly professional and technological. All large wine fridges can be installed in small and large places.
These exclusive refrigerated wine displays can be purchased for the presentation of the finest bottles of champagne, sparkling wine and still red wine. Offer your customers' favourite wines, serve it at the perfect drinking temperature for lunch or dinner. The flexibility of these professional wine fridges is exceptional, bottles can be presented laid horizontally, upright or inclined on the corresponding shelves.
These large wine refrigerators are suitable for free installation. Depending on the model, they can be installed in kitchen columns and under counter top; and you can realise a unique staging of your restaurant.
Bottle storage capacity from 56 up to 960 bottles, height from 82 cm to 1,80 m; buy online the large wine refrigerator of your favourite product line Design, Stainless Steel, Luxury or Wood. Purchase directly
from the manufacturer, wine fridges with 1 to 5 separate temperature zones manageable with maximum autonomy, and thanks to the interactive digital displays they are very easy to use.
And thanks to our video instructions, you will no longer have any difficulty with the usage of this wine fridges.
CUSTOMISE YOUR LARGE WINE REFRIGERATORS OR CHOOSE THE RENTAL FORMULA FOR EVENTS, FAIRS AND CATERING SERVICES.
YOUR WISHED PRODUCT IS NOT AVAILABLE? CONTACT US AT +43 720775458 AND WE WILL FIND THE BEST SOLUTION FOR YOU. WE REALISE FITTING-OUT PLANS AND SKETCHES!