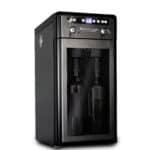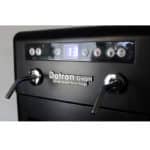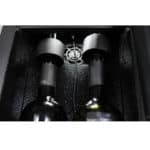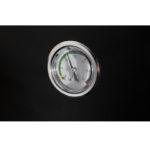 Wine Dispenser
Preserve your open wine bottles up to 25 days
How many times have you open a bottle of wine and drink or serve only a single glass of it? How often you would like to drink the rest of the wine at another time, but its wasted, because it tastes no more!
The oxidation of wine is a natural process that alters the organoleptic properties as soon as a bottle is opened. It is essential to store open wine bottles correctly. Keep them protected from air and temperature changes. In fact, cold temperatures slow down the decay of wine.
Thanks to the food nitrogen technology it is possible to maintain the original taste of the wine for many days and to choose independently for each single bottle the right storage temperature. The food nitrogen cylinder has a duration of 20 days by non-stop use. With the valve (included) and a kit (not included) it is possible to connect externally bigger food nitrogen cylinders to the wine dispenser.
An innovative and next-generation product, with the main feature of keeping open wine tasteful for up to 25 days. The accurate design of the wine dispenser fits into any modern or classic surroundings, for both private households and public companies. With this wine dispenser designed by Datron, it is easier and simpler for the entire hospitality industry to serve and sell wine by glass.
It can be positioned in:
all Horeca environments like restaurants, bars, hotels, wine bars
private households
bed & breakfast
companies
offices
This practical wine dispenser is very space-saving, it fits on every shelf or is freestanding. On the display you can choose between different dosage settings: manual, automatic and four different portion settings.
For 2, 4 or 6 wine bottles
Temperature adjustable between 7 ° and 18 ° C
Adjustable feet
Glass with UV protection coating
Interior lighting
Kit with valve for connection of an external food nitrogen cylinder
Includes a food nitrogen cylinder
Open wine bottles will no longer be a problem!