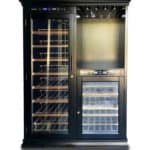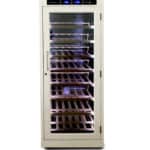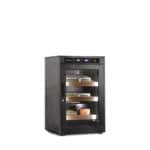 Wood Wine Refrigerators
Design and tradition with a view to the future
Wooden wine coolers, timeless elegance. Because oak wood is very resistant, robust and durable, Datron has created this new product line of wine fridges. They are more than simple wine refrigerators!
This wine cabinet is multifunctional and suitable to furnish restaurants, hotels, bed & breakfasts, wine shops, bars and clubhouses.
These freestanding wooden refrigerated display cases store the wine masterfully, so that you can enjoy it at any time at the perfect drinking temperature. The single temperature zone can be regulated between 5°C and 22°C by using the digital thermostat. The compressor motor and the fans positioned at each shelf make it possible to cool and store even the finest Bordeaux bottles in the medium and long term. Lay the bottles horizontally in order to keep the wine in contact with its cork. To place oversized bottles, simple pull out the shelves.
The free upper area is very spacious, and can be used for storing wine glasses, cutting boards and whatever else you prefer.
Due to the variety of sizes, colours and bottle capacities it is possible to choose your preferred wooden wine cooler.
Suitable for classic environments, the Liberty or Shabby Chic design style, small or large spaces, even for corner bars in private homes and eno enthusiasts. With the internal LED lights and the glass door with UV protection, it is possible to enhance the noble wine labels and to offer them to customers and friends.
Every exterior and interior detail of these wooden wine refrigerators has been created by Datron with the utmost care and pursuit of perfection.